it's the way you sell every word & phrase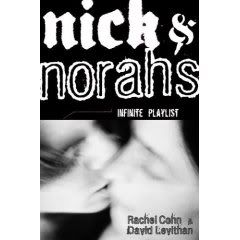 Nick & Norah's Infinite Playlist by Rachel Cohn & David Levithan
From bn.com
-It all starts when Nick asks Norah to be his girlfriend for five minutes. He only needs five minutes to avoid his ex-girlfriend, who's just walked in to his band's show. With a new guy. And then, with one kiss, Nick and Norah are off on an adventure set against the backdrop of New York City--and smack in the middle of all the joy, anxiety, confusion, and excitement of it all.
My Thoughts
- Wow this was really good. It alternated between David Levithan's writing from Nick's point of view to Rachel Cohn's writing of Norah's point of view. Levithan's lyrical, descriptive writing and development of Nick blew Cohn's writing out of the water. Norah was just skeezy and bipolar sounding the whole time. The constant stream of consciousness that is the teens thoughts are written maybe a little too smart to be realistic but it was great. And what is really strange I thought was that this book had hardly any dialog. Hmm.
The book took me back to being 17-going to shows, thinking my music was elite, sarcasm being the second language spoken, hanging out with cute band boys all night, with the occasional drag queen thrown in.
"The mind has an ear of its own and sometimes memory is the fiercest f-cking DJ alive."-Nick