tie a cat to a pole...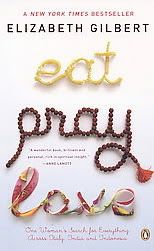 Yeah I had to go there.
And MAN I'm glad I did. I needed to read this after the depression inducing Kite Runner. Elizabeth Gilbert=my hero. What and amazing woman! I love her after reading this book. It's a memoir of sorts strating at the end of her divorce and depression and her travels through Italy, India, and Indonesia. It was interesting and uplifting. I loved her veiw on having kids and being married in the begginning of the book. Her take on God is right up my alley. I found this book refreshing and wise.